The Rev. Dana Fath Strande, Priest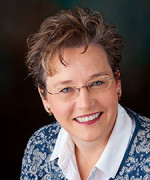 Dana most recently served for 13 years at Christ Episcopal Church in Woodbury as their full time assistant priest and Parish Life Minister. She also has nearly 30 years of staff lay leadership experience.  Dana grew up on a farm in west central Minnesota, she attended St. Scholastica-Duluth where she graduated with three majors…all in ministry. She served parishes of the Roman Catholic Archdiocese before serving in the Episcopal Church in Minnesota. Dana also has a certificate in Church Business Administration from the University of St. Thomas, St. Paul School of Divinity and has studied with Seabury, United Theological, and Luther seminaries. Dana was ordained to the priesthood this past June. She lives with her husband Michael and two daughters in Maplewood.
Telephone: 952-435-8687
Email: dana.fath.strande@nativitymn.org
---
The Rev Kathleen K. Brusco, Assisting Priest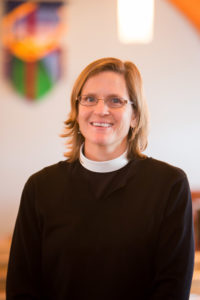 Kathleen has served as the assistant priest at Nativity for the past 4 years. She works closely with the Priest-in-Charge and Liturgy team to complete the planning of worship and presides and preaches on Sundays, when needed. Kathleen is a native to Minnesota and was raised in the Episcopal Church in White Bear Lake. She attended St. Olaf College and then Seabury-Western Seminary and has been ordained for 16 years. She has spent much of the past 12 years at home raising her 4 children and enjoys being called to these two ministries of motherhood and the priesthood. In her free time she enjoys crossfit, golf, and along with her husband, Paul, watching their kids 'do their thing.'
Telephone: 952-898-0684
Email: kkbrusco@hotmail.com
---
Nancy Meyhoefer, Office Administrator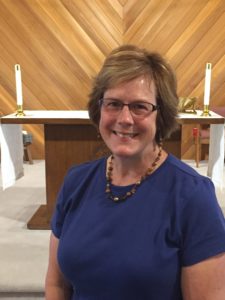 Nancy makes her home in Shakopee with her husband Jim, of 25 years. They spend their time with children Alex, Molly and 3 cats. Nancy enjoys music (sings, plays flute and piano), golfs, reads regularly, and loves watching Ellen DeGeneres. She loves to mow her lawn or shovel snow. She is very happy to be the newest staff member at Nativity. 🙂 Nancy is a member of Shepherd of the Lake, Prior Lake. She is also part of a faith-based running group in Shakopee, and a MN Vikings fan!
Telephone: 952-435-8687 (After hours, press 1 to leave message)
Email: nativity@nativitymn.org
---
Jamie Manzi-Moore, Music/Faith Formation Director
Jamie has been a church music director/cantor for the past 20 years, and came to us at Nativity in the fall of 2016. Jamie has most recently served for one year as Director of Music at Community of the Cross Lutheran Church in Bloomington MN, and before that, as the Director of Music and Liturgy at St. Victoria Catholic Church in Victoria MN for 18 years. Jamie brings a love for serving the Lord, church music, and a desire to welcome all into music ministry, whether that be singing from the pew, participating in our adult choir or contemporary ensemble, or in other ways! In his free time, Jamie enjoys time with his husband Garrett and their two dogs Buddy and Gus. He also enjoys time with family, (especially family dinners on Sundays) singing karaoke, and being outdoors!
Email: jamie.manzi-moore@nativitymn.org
---
Sharon Tabor, Church Nursery Minister
Sharon has been caring for young children since age ten when her youngest brother was born. Now, three of her four siblings have children of their own, making her a very happy auntie. Her childcare experience includes positions such as babysitter, teacher's assistant, camp counselor, and even au pair in Europe. Sharon has lived in several states around the US but keeps ending up back in her home state of Minnesota. She resides in West St. Paul with her cat Percival. She enjoys reading, sewing and listening to music. In addition to working in the nursery, Sharon volunteers at the Children's Hospital.
---
Paula Bowen, Bookkeeper