Nativity members' partner on a variety of additional projects throughout the year including:
Adopt-A-Family
Our community has made a significant difference in the lives of dozens of local military families at Christmas time over the years. This year we supported two military families, who were struggling this Christmas, by providing gifts for every member of their family. This effort has been led by Christin Croll Carlson.
Ebenezer Ridges Senior Care Center (Burnsville campus)
Volunteers play a vital role in helping Ebenezer offer a variety of programs and services to meet the needs of older adults. Nativity members volunteer to help residents make their lives more independent, healthful, meaningful, and secure.
Many Nativity members also volunteer at the Ebenezer Coffee Shop. The Coffee Shop not only provides Ebenezer residents with gourmet coffee, a variety of snacks and lunch options, but it is also a social hub where residents, families, and employees gather. If you are interested in supporting this endeavor, please contact Sally Maust.
Nativity has committed to offering two Sunday services to Ebenezer residents for well over 10 years.  Nativity comes together with volunteers to help the residents to and from their rooms as well as during the service.  Music and service participation is offered each time from Nativity's portfolio of talent.  This is a wonderful ministry that touches the lives of our more senior community residents.
Nativity has also participated in the Christmas season Gifts of Love program for the residents at Ebenezer.  Nativity members volunteer to purchase suggested items for residents who receive these gifts during their holiday party. We never meet these recipients but are conscious of the impact the gifts make during the season.
Second Harvest Heartland
Second Harvest Heartland is one of the nation's largest and most efficient food banks. Millions of pounds of food are collected, repackaged and distributed each year to more than 1,000 agency partner programs in Minnesota and western Wisconsin that provide food to local people in need. This is a critical service as 1 in 6 children in Minnesota lives at risk of hunger. Nativity members volunteer as a group at least three times a year – twice in the spring and once in September (Hunger Awareness Month). Volunteers can be as young as age 8 if they volunteer in the presence of a parent/guardian in a ratio of 1 adult to 3 youth. If you are interested in this ministry please contact Helen Goeden.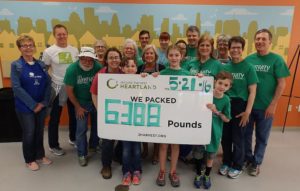 Thank you for volunteering today! I hope everyone had a good time. As Jim at Second Harvest said –each of you made a difference today! September is Hunger Awareness Month and we have a volunteer shift scheduled for Saturday, September 17 from 12:30 to 2:30 at the Golden Valley location. If you are interested, contact Helen Goeden, who will be sending out reminders and soliciting additional volunteers in August.
Feed My Starving Children 
Every February Feed My Starving Children (FMSC) partners with a coalition of south metro churches. The dates for next year are February 6-11, 2017. The goal is to package millions of meals over a single week. The meals packed are used by FMSC for feeding programs throughout the world. The stockpile of millions of meals gives FMSC the ability to respond to emergencies such as natural disasters and famine to bridge food supplies until long term sustainable food sources can be found. Nativity members volunteer to package meals as well as raise funds to off-set the cost of the meal supplies. Volunteers as young as 8 years of age, if accompanied by a parent, can participate. If you are interested in this ministry please contact Colin Brownlow.