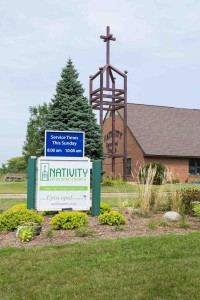 We extend a warm and unconditional invitation to you to worship with us. Whether you are just visiting in town, or searching for a community that will embrace you as you are and wherever you are in your spiritual journey.
Who we are
Nativity is a community of people who care about each other and those beyond the congregation. We are vibrant and growing with members who are young and old, families and singles, from a variety of ethnic and social backgrounds. All are welcome. Should you wish to know more about Nativity or the Episcopal Church, join us in worship and stay for fellowship after the service. Our staff and members are glad to answer your questions and welcome an opportunity to greet you.
When you enter the church
Greeters will welcome you and assist you with any questions at the door. You will be provided a worship bulletin that will assist you in following along with the service. It contains the song numbers, biblical passages and special prayers so you can fully participate in the experience of worship.
The Service
The service is a celebration of the Holy Eucharist, which means "thanksgiving" in Greek. We give thanks for what God has done for us in Jesus Christ. It is also known as Holy Communion, because in it we commune with God and also with each other as the Body of Christ. We believe we encounter the Holy as we receive the communion and all are welcome at God's Table.