October 5, 2016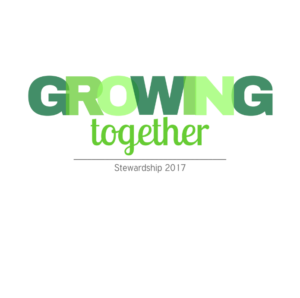 Dear Nativity Friends,
What a year!!  We have seen a lot of changes this last year; and, for the first time in quite a while, we are fully staffed and in great shape to continue our faith journey together.  "Growing Together" is this year's Stewardship theme and, with everyone's support, we will continue to "Grow Together" as we embark on this coming year.
As I look back on what we have accomplished in the past 12 months, I am incredibly proud of everyone and our overall commitment to Nativity.  We have a bright future and I am excited to discover what lies ahead.
In preparing for this campaign, the Vestry and Finance team have done a tremendous job identifying and eliminating expenses where appropriate to develop a balanced 2017 budget.  Their focus and leadership has been outstanding and we are very grateful for their hard work.  The Vestry recently approved a draft of the 2017 budget for our Stewardship campaign.  Based on last year's giving, we are looking at a need to increase the annual Stewardship by 6% overall.  This letter is the official kick-off to the Stewardship campaign, with the campaign wrapping up on November 20th.
The Rev. Michael Pipkin from ECMN kicked off the adult education program year on September 25th with a conversation at Adult Forum discussing our relationship with ECMN and in his sermon on "Why Give".  That education will continue with upcoming Adult Forum speakers. Hopefully you have read the letter distributed at services on September 25th outlining the exciting speaker and education line-up for this year's Stewardship campaign.  Below is an overview of what we can expect over the next several months:
Annual Pledge Campaign
Long Term Giving
Estate Giving (Legacy Gifts)
Personal stories of giving to Nativity
Your generosity last year is one reason Nativity was able to accomplish so much. We are grateful for your wonderful gifts. Now we ask you to consider your financial pledge for the year ahead.  We take this process of budgeting and Stewardship very seriously.  Asking our parishioners to increase their already generous gifts is not an easy request.  Please take some time to attend our Adult Forum programs, ask questions, discuss and prayerfully consider what your 2017 commitment will be.
In our continued commitment toward transparency, we are attaching a high level look at the approved budget for the 2017 stewardship campaign.  A pledge card is enclosed for your convenience, and we ask you to bring it to the altar on November 20th so that all our gifts can be gathered and blessed on that day.
Faithfully yours in Christ,
The Rev. Dana Fath Strande, Priest-in-Charge